Anyone who knows me knows I'm not much of a baker. You see cooking is an Art, a pinch of this, a dab of that, it'll be okay. Missing an ingredient, there are a lot of things you can substitute, you just have to be creative and work with what you have. Baking on the other hand is a Science. You really have to follow that recipe and do things in the right order with the right ingredients or it just won't come out right. Missing Baking Powder? No, you can't substitute Baking Soda it will just fall flat.
So When my Friend Tony left me with a big beautiful Pineapple and a huge hunk of ginger I started think about what to do with them. Thai curry came to mind but I knew it would be a tough sale for the husband so I started to think dessert. What could I do with this that would be a good dessert. Being the novice baker that I am it needed to be simple and easy and something I had all the ingredients for.
Several years ago my sister, who by the way is a fantastic baker, made a Blueberry Buckle while we were on vacation and it was amazing. It looked simple enough and I thought it would be something I could handle so I started digging around on line for a recipe. I found one that looked good on the blog "A Taste Of Home" and thought let's go with it and see what happens if I make it a Pineapple Ginger Buckle.
Well, it turns out this is a great recipe, how could it not be, it was her Grandmothers. I followed the recipe substituting the Pineapple for the Blueberries and adding fresh grated Ginger and, because I had some in the pantry, flaked coconut.
WOW, this thing is amazing. The sweetness of the Pineapple with the bite of that fresh Ginger and the crunchy Coconut, absolutely to die for.
Now I understand that I will not always be so lucky when making substitutions while baking but after this experience I may have to do more of it. After all we are all stuck at home with nothing to do, so I might as well learn a new skill.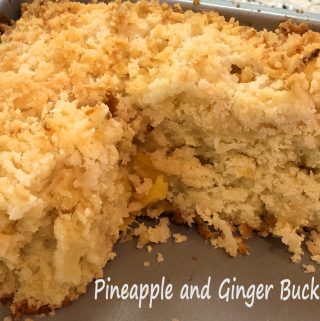 Pineapple Ginger Buckel
Ingredients
1/4

cup

Butter

Softened

3/4

cup

Sugar

1

Egg

2

cups

All Purpose Flour

2

tsp

Baking Powder

1/4

tsp

Salt

1/2

cup

Milk

2

cups

Pineapple Chuncks

Drained

3

tbsp

Grated Fresh Ginger

1tbsp ground dry ginger

1/2

cup

Flake Coconut
Topping
2/3

cup

Sugar

1/2

cup

All Purpose Flour

1/3

cup

Cold Butter

Cubed

1/2

cup

Flake Coconut
Instructions
In a small bowl cream together the butter and sugar until light and fluffy. Beat in the egg. Combine the flour, baking powder and salt; add to creamed mixture alternating with the milk, beating well after each addition, fold in the ginger, pineapple and coconut. Pour into a 9X9 greased baking pan.

For the topping, in a small bowl combine the sugar, flour and coconut, cut in the butter until crumbly, I had to get in there with my hands and mush it up really good. Sprinkle the topping over the pineapple mixture and bake in a 375 degree oven for 40-45 minutes or until a toothpick inserted comes out clean. Cool on a wire rack.