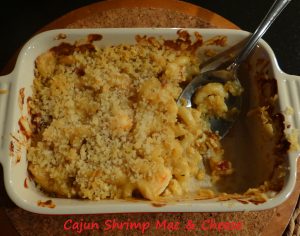 Cajun Shrimp Mac and Cheese
Yield 4-6 Servings
Ingredients
For the cheese sauce:
1/2 stick of butter
1/4 cup flour
1 12 oz can evaporated milk
1 14.5 oz can chicken broth
1t Worcestershire sauce
1t Lawry's Season Salt
1t A1 Steak Sauce
1t garlic powder
8oz shredded sharp cheddar cheese
For the Shrimp and Bacon and Macaroni:
1/2 lb raw shrimp peeled and deveined
4 slices bacon
2t Paul Prudhomme's Seafood Magic
8 oz elbow macaroni
For the topping:
1/2 cup panko bread crumbs
2 T melted butter
Instructions
Slice the bacon in 1/4 in strips and cook on med low heat until crispy, drain on a paper towel and set aside. This will take about 10 minutes. You want to cook it low and slow so it gets crispy but doesn't burn. You want to make sure and get it good and crispy because it will soften up in the sauce and if you don't it will get soggy and no one likes soggy bacon.
Season the shrimp with the Seafood Magic and place on a sheet pan under the broiler on high for 3 minutes per side. You may want to cut them in half depending on the size of shrimp you use. I used 31-35 count per pound and I cut them in half.  You just want to barely cook them so that the spice adheres to them well but you don't want them over cooked. Take out of the oven and set aside.
Get your water boiling and cook the macaroni, when done drain in a colander and set aside. While the macaroni is cooking start your sauce.
In a sauce melt the butter then add the flour. Stir well and let it cook for a minute to get the raw taste out of the flour. Stir in the milk and chicken broth and simmer until it starts to thicken up, then add the Worcestershire sauce, Lawry's season salt, garlic and A1 and mix well. Add the cheese and stir well in incorporate. The sauce will seem to be thinner than than you think it should be and that is okay it will thicken up more in the oven.
Combine the macaroni, cheese sauce, bacon and shrimp in a well greased 8X9 casserole dish. In a small bowl microwave the butter for 30 seconds add the panko bread crumbs and mix well so that they are all covered with the butter. Spread the bread crumbs over the top of the Mac and Cheese mixture. Bake in a 350 degree oven for 30-40 minutes until it is bubbling and the bread crumbs are nicely browned and crunchy. Don't skimp on the butter and the bread crumbs they really are the perfect finishing touch.
Notes
Can be made ahead, just give it more time in the oven if it's cold going in.
Courses Dinner
Cuisine Cajun
Recipe by Marie Cooks at http://www.mariecooks.com/sunday-dinners/cajun-shrimp-mac-and-cheese/