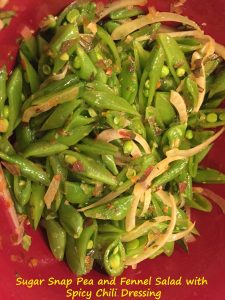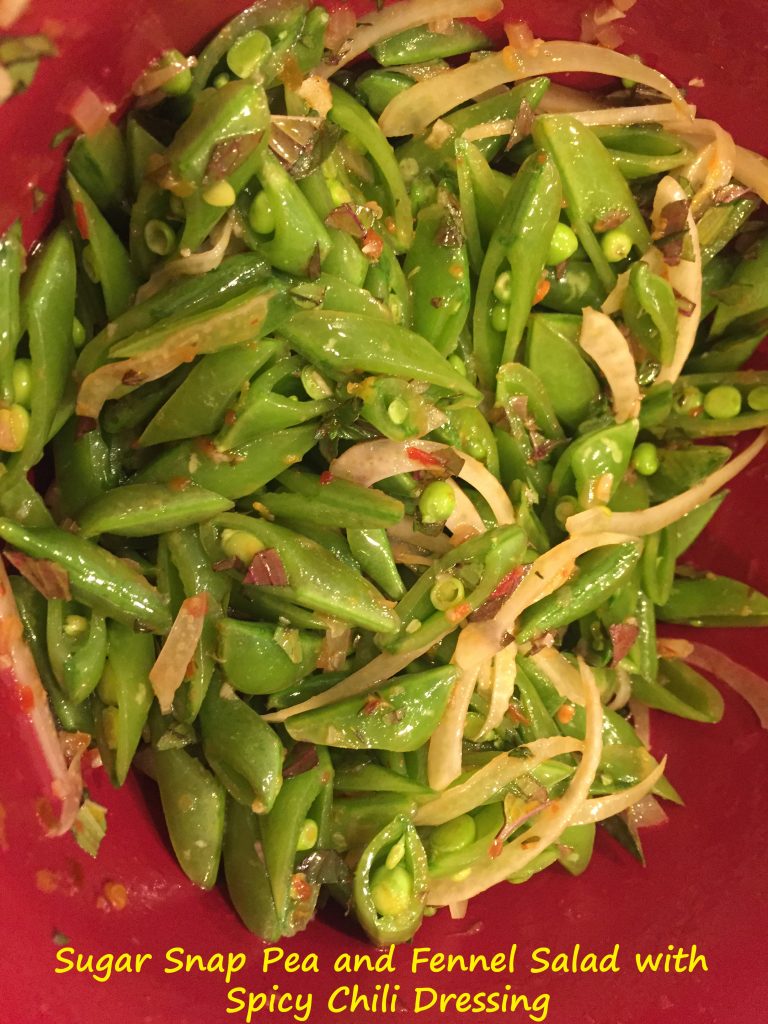 Sugar Snap Pea and Fennel Salad with Spicy Chili Dressing
Yield 4 servings
Ingredients
For the Chili Dressing:
1/4 cup vegetable oil
1 t mined garlic
2t minced shallot
2t chili paste
1/2 t lemon zest
1/4 t fresh thyme
1/4 cup olive oil
1/4 cup fresh lemon juice
pinch salt and pepper
For the Salad:
1lb Sugar Snap Peas
1/2 cup thinly shaved fennel
1/4 t salt
1 1/2 T chopped fresh mint
1/2 cup shaved pecorino or parmesan cheese
Instructions
Make the dressing:
In a small skillet or sauce pan heat 1/4 cup vegetable oil over low heat. When it starts to shimmer add the garlic, shallot, lemon zest, chili paste and thyme. Gently cook for 1 minute and remove from the heat to a small mixing bowl. Add the olive oil, lemon juice, salt and pepper and whisk to combine.
Make the Salad:
Wash the snap peas and remove the tough string that runs along the center. (The ones I bought were string-less which is nice if you can find them.) Julienne the peas lengthwise in 1/4 inch pieces. Thinly slice the fennel bulb and chop the mint. Toss to combine, then add the dressing and toss to coat well. Sprinkle the cheese on top and serve.
Courses Salad
Recipe by Marie Cooks at http://www.mariecooks.com/salads/sugar-snap-pea-and-fennel-salad-with-spicy-chili-dressing/