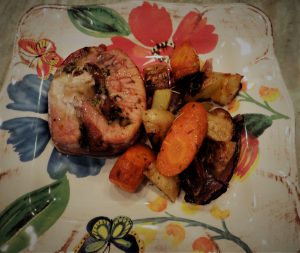 Sunday Pork Roast
Yield 6
Ingredients
2 1/2 lb Pork Loin Roast
3 slices prosciutto
3 slices provolone cheese
6 slices bacon
1/4 cup pesto
1t salt
1/2t pepper
4 potatoes
3 carrots
1 red onion
Instructions
Butterfly the roast so that it opens up and lays flat. Follow this link from the National Pork Board to see how easy it is to do this. https://www.youtube.com/watch?v=Fz391Urnk30 . Season with salt and pepper and spread the pesto out in an even layer, lay the provolone on top of the pesto followed by the prosciutto and roll it up. Lay the strips of bacon out and place the rolled up roast on top of the bacon and wrap the bacon around the roast. I needed to secure it with tooth picks to hold it in place while I tied it up. Once it was tied up I removed the tooth picks. Okay, so that was the hard part from here on out it's smooth sailing.
Bake in a 350 degree oven for 1 1/2 hours. While this is roasting cut up your potatoes in 1-1/2 inch chunks, slice your carrots into 1 1/2 inch pieces and slice your onion into large wedges. Mince 1 clove of garlic, and put it in a small glass container with 1T of olive oil, 1t rosemary, 1t thyme 1t salt and heat it in the microwave for 30 seconds. Pour this mixture over your vegetables and toss to coat. When the roast has been in the oven for 45 minutes take it out and add the vegetables to the pan, put it back in the oven to continue cooking for the the last 45 minutes.
When the roast has reached 155 degrees take it out of the oven, remove it from the pan and let it rest for 15 minutes before carving. Put the veggies in an oven proof bowl, cover with foil and return to the oven to keep them warm while the roast rests.
Recipe by Marie Cooks at http://www.mariecooks.com/recipes/sunday-pork-roast/