Today I'm cooking for the girls. There is a wonderful organization here in St Louis called Boys Hope Girls Hope.  http://www.boyshopegirlshopestl.org  They take gifted underprivileged kids and with the consent of their parents move them to a group home setting and provide tuition to private schools here in the St Louis area so that they can rise to their full potential. The group parents are so busy running all over town for school pick ups that getting a good dinner on the table is very difficult. So, there is a group of "Mom's" that volunteer to bring in dinner for them. I started this last month and I have really enjoyed it. The girls are a bit tricky, out of the 12,  3 are vegetarian and  1 is a vegan. So it is always a challenge to come up with something that will work for all of them. In my household we are meat eaters, and vegetarian is easy enough but that vegan is really throwing me out of my comfort zone.  But hey, I'm always up for a challenge and trying new things is what this is all about. So, today I'm making a Vegan Shepard's Pie.  It is easy to make this vegetarian instead of vegan, just follow the notes in the recipe.  It turned out really good, this is defiantly one I will do again on a cold winter Meatless Monday night.
Vegan Shepard's Pie
Yield 4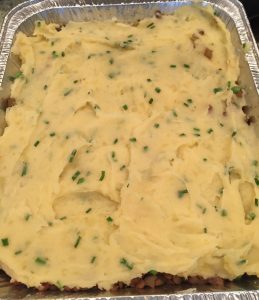 Ingredients
1 large carrot chopped
1 stalk celery chopped
1 small or 1/2 large onion chopped
1 cup frozen peas
2 cloves garlic minced
1 1/2 cups dried lentils
4 cups vegetable broth divided
1t dried thyme
1t dried basil
1t dried marjoram
2t Kitchen Bouquet
1T worcestershire sauce
1T Wondra flour
4 medium potatoes
3T chopped fresh chives
Instructions
Use a large skillet that has a lid. Add 2T oil and saute the chopped carrot, celery and onion until the onion is translucent, about 8 minutes. Rinse the lentils under cold water and pick out any stones or bad lentils. Add to the vegetables and mix well. Add 3 cups vegetable broth, thyme, basil, marjoram, and garlic, worcestershire sauce, and  Kitchen Bouquet.  Bring to a boil, cover and reduce to a simmer. Simmer for 20 - 30 minutes until lentils are tender. Add salt to taste. (Wait to add your salt until after the lentils have cooked, this will keep them from getting mushy.) When the lentils have finished cooking you should have a little liquid left in the pan, add 1T Wondra flour and stir to incorporate and continue to simmer for another couple of minutes while the sauce thickens up. Add 1 cup frozen peas and stir to combine.
While the lentils are cooking peel and cut up your potatoes, put them in a sauce pan and just cover with water. Add 1T salt and boil until tender. Drain the potatoes and add 1 cup vegetable broth and 3T chopped fresh chives. (Dried will work fine if you don't have fresh.) Mash potatoes until creamy.
To assemble place the lentil mixture in the bottom of a casserole dish and top it with the mashed potatoes. Place in a 350 degree oven uncovered  for 30 - 40 minutes until the potatoes are nicely browned and the the whole thing is warmed through.
Notes
The potatoes were okay but unless you really want to go vegan use butter and milk instead of the vegetable broth and stir in some shredded cheddar cheese and you will have a really good vegetarian dish.
You can make this ahead of time and freeze but you will want to bake for at least 1 1/2 hours if it goes into the oven frozen, keep it covered for the first hour or the potatoes will get too brown.