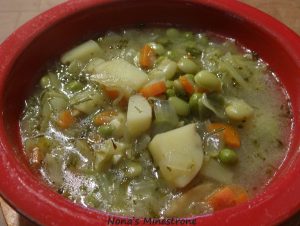 Nonna's Minestrone
Yield 6-8 servings
Ingredients
1/2 med onion chopped (about 1 cup)
2 stalks celery chopped
2 large carrots chopped
2 large cloves garlic minced
3 cups shredded green cabbage
1 cup frozen lima beans or 1 can cannellini beans drained
1 cup frozen peas
3-4 med yukon gold potatoes cubed
6 cups chicken broth
1t marjoram
1t basil
1t rosemary
1/2 t thyme
1/2 cup white wine
Instructions
In a large soup pot saute your onion, carrots and celery in a little bit of oil with a pinch of salt until they start to get soft, about 10 minutes. Add the garlic, cabbage, chicken broth, lima beans, wine, and spices and simmer for 20 minutes until the cabbage starts to get soft. The cabbage takes longer to cook than the potatoes so I always wait to add them. After 20 minutes add the potatoes and peas and continue to simmer for another 10-15 minutes until the potatoes are soft. Season with salt and pepper to taste. Serve with a sprinkle of Parmesan cheese on top and some crunchy garlic bread.
Notes
When I make soup I use Jamison's soup base. This stuff is wonderful. It doesn't have as much sodium as bouillon. It has a wonderful consistency and gives great flavor to soups. Plus it's cheaper than canned broth and keeps on the shelf forever. 1 teaspoon per 1 cup of water.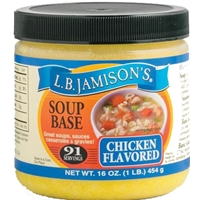 When I made this I had some fresh fennel bulb in the fridge, so I used that instead of celery. You can substitute almost any vegetable you have on hand for this recipe (it's a a good way to use up those small portions of frozen vegetables you have in the freezer) but the cabbage is a key ingredient so don't leave it out.
Courses Dinner
Cuisine Italian
Recipe by Marie Cooks at http://www.mariecooks.com/easy-week-night-dinners/nonas-minestrone/