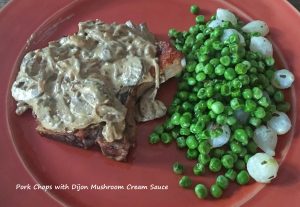 Pork Chops with Dijon Mustard Cream Sauce
Yield 2 servings
Ingredients
2 pork chops 1/2" thick
1T olive oil
8 -10 mushrooms sliced
1  shallot halved and thinly sliced
1/4 cup white wine
1/2 cup sour cream
1T Grey Poupon Country Dijon
Instructions
Preheat your oven to 250 degrees. I use my cast iron skillet for this but if you don't have one use any heavy skillet. Put the skillet on high heat and get that thing smokin' hot. Salt and pepper the pork chops. Add the oil to the skillet and turn the heat down just a touch to med high, then add the chops. Cook until nicely browned on both sides, about 10 minutes. Remove the chops from the skillet and place in the oven to keep them warm. Turn the heat down on the skillet to medium and add the mushrooms and shallot and saute for 5-8 minutes until the shallot is soft and the mushrooms are nicely browned. You may need to add a bit more oil to the pan.  Add the wine and Dijon mustard to the skillet and let it reduce scraping up any bits left on the bottom of the pan. When the wine has almost completely evaporated add the sour cream and warm to serving temperature.
Place the chops on a plate and spoon the mushroom mixture over the top to serve.
Notes
The type of mustard really makes a difference to the taste of this dish. I've tried it with a store brand Dijon mustard and it had a horseradish taste to it that was too sharp for my liking. Buy the good stuff it's worth it.
You can substitute Greek yogurt or evaporated milk for the sour cream if that is what you have on hand. Milk doesn't have enough fat in it and it will curdle so I don't recommend it.
Courses Dinner
Cuisine French
Recipe by Marie Cooks at http://www.mariecooks.com/date-night/pork-chops-with-dijon-mushroom-cream-sauce/