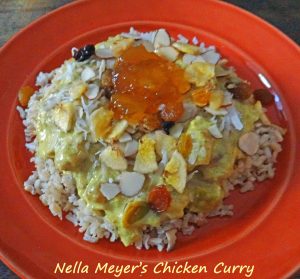 Nella Meyer's Chicken Curry
Yield 4 Servings
Ingredients
6 boneless chicken thighs or 4 boneless chicken breasts
1 small red onion coarsely chopped (about 2 cups)
2T olive oil
1 Granny Smith apple chopped
1/4 cup raisins
3-4t curry powder (divided)
1T flour
1 1/2 cups chicken broth
1 8oz carton sour cream
Instructions
Season chicken with 1 teaspoon curry powder and salt and pepper. Heat oil in a large skillet that has a lid, add chicken and brown on both sides until it's cook through. Depending on the type of chicken you are using this could be 10-20 minutes.  Remove chicken from the pan and let it cool. While the chicken is cooling saute your onions in the skillet. You may need to add a bit more oil to the pan if it is too dry. While the onions are cooking shred the chicken into fairly good size pieces, about the size of your thumb. They will break down more while cooking and if they're too small all you will have is mush. When the onions are soft turn the heat down to low and add the apples and raisins to the pan with the shredded chicken. Sprinkle the flour over the the chicken mixture and give it a stir to soak up the juices then pour in the chicken broth. Add the remaining 2-3 teaspoons of curry powder (to taste, I used 2 because I like it spicy), stir gently, cover and simmer for at least 1 hour 2 is better if you have the time. I cooked mine for an hour and took the lid off for the last 15 minutes so that most of the moisture would evaporate. You want a good thick sauce and the sour cream will loosen it up so you want the curry mixture to have very little liquid left when you add the sour cream.
Ideally, at this point you will put the skillet in the fridge over night and let all of the flavors marry, because as you know some things are better the next day. Then add the sour cream and bring up to serving temperature. However, if you're in a hurry, add the sour cream now and serve.
Notes
Serve over rice with condiments Chutney, Coconut, Slivered Almonds, Peanuts, Dried Banana Chips, Raisins, Green Onion, or Fried Bread Cubes. What ever you do Don't Forget the Chutney!
Courses Dinner
Cuisine Indian
Recipe by Marie Cooks at http://www.mariecooks.com/date-night/nella-meyers-chicken-curry/