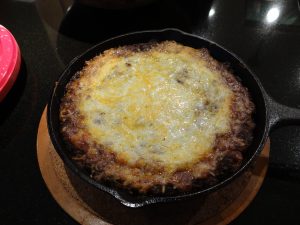 Chorizo & Black Bean Dip
Ingredients
6oz chorizo sausage
1/2 small onion chopped
1 1/2 t ground cumin
1t salt
2 cans black beans
6 oz shredded cheese (mexican blend)
Instructions
Use an 8" oven proof skillet. Brown chorizo and onion over med high heat until the chorizo is a bit crispy and onion is tender, about 15 minutes. While this is browning drain your beans and puree one can leaving one can whole. Add the salt, cumin and beans to the chorizo mixture, stir well to incorporate, cover with the cheese and bake in a 350 degree oven for 20-25 minutes until the cheese has melted and the beans mixture is bubbling. Serve with chips.
Notes
I used the mexican chorizo that comes in a tube, but if you can find good house made chorizo at your grocery store use it instead.

I also used my cast iron skillet as it holds the heat well when you take it out of the oven.
I made this up in the morning minus the cheese and stored it in the fridge in Tupperware, then all I had to do was put it in the skillet, cover it with the cheese and pop it in the oven before my guests arrived.
Recipe by Marie Cooks at http://www.mariecooks.com/appetizers/chorizo-black-bean-dip/